This fall, religion professor Peter Slade travelled to New Orleans and Mississippi as part of the book launch of Mobilizing for the Common Good: The Lived Theology of John M. Perkins. Dr. Slade co-edited the book with Charles Marsh (UVa) and Peter Heltzel (New York Theological Seminary).
Born into a sharecropping family in New Hebron, Mississippi, in 1930, and receiving only a third-grade education, John M. Perkins has been a pioneering prophetic African American voice for reconciliation and social justice to America's white evangelical churches. Often an unwelcome voice and always a passionate, provocative clarion, Perkins persisted for forty years in bringing about the formation of the Christian Community Development Association—a large network of evangelical churches and community organizations working in America's poorest communities—and inspired the emerging generation of young evangelicals concerned with releasing the church from its cultural captivity and oppressive materialism. (Taken from University Press of Mississippi's description)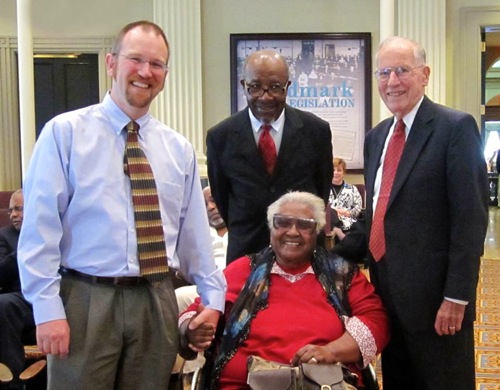 (L. to R.) Peter Slade, John Perkins, Vera Mae Perkins, William Winter
Dr. Slade travelled to New Orleans to attend the CCDA annual conference where he, along with five of the contributors, gave a public presentation and officially launched the book.
On September 17, Slade gave a lecture for the Mississippi Department of History and Archives on the life and legacy of John M. Perkins. The event was in the House Chamber of the Old State Capitol in Jackson, Mississippi. "It was a significant event and I was pretty nervous," reports Slade. He was introduced by William Winter, a former governor of Mississippi, and John Perkins attended. Slade said, "It is an unnerving experience for a historian to talk about the significance of a person's life with them sitting in the front row."